MACCHIA NERA Concept
How unique? Here's how the plan unfolded. Stefano called on his good friend, Aldo Drudi the famed Italian designer.
"Il Signore Drudi" was given freedom to create a fresh and aggressive design.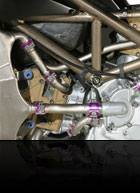 185 HP, 135 Kgs. Road rage has met its soul mate.
Aldo Drudi design, captured in carbon fiber and titanium.